YA fiction is 'hot' this year, with studies showing more than half of readers are not actually teenagers. There have been articles decrying adult readers as juvenile, and others defending YA fiction as 'telling great stories', ones that people obviously want to read. So I thought I'd write a little about three recent novels (and yes, I'm a keen YA novel reader, and also a keen MG reader!).
Yaqui Delgado Wants to Kick Your Ass - Meg Medina
Yes, I bought this book because of the title, but also because I had heard lots of great things about it. In a nutshell, it's a book about bullying, but it's not at all a 'do-good' story in the sense that these kinds of issues stories can sometimes be. The characters are mostly Latino, and the setting is a poor district high school. The main character, Piddy, has been forced to change schools when her mother moves them to a better apartment. When Piddy is greeted one day with 'Yaqui Delgado wants to kick your ass', she's flabbergasted. She doesn't even know who Yaqui is - but she is about to find out.
This is a story that takes bullying to a new level, the kind that frightens all of us. A girl who is obviously out of control and possibly psychotic decides she hates Piddy and becomes obsessed with beating her up. It reminded me of stories of women being stalked by an obsessive man - no matter what the woman does, he won't give up or listen to reason - and when reason fails, what are we left with? Nearly all of the characters in this story are female, and this is as much about Piddy's relationships with her mother and her friend, Lila, as the bullying. Piddy is a smart girl but when faced with personal violence, she is at a total loss. Of the two males in the story, one is an absent father (so absent that the mother refuses to mention his name) and the other is a boy whose own father is a monster. Medina weaves all of these threads together successfully, and the book kept me hooked all the way through.
The Impossible Knife of Memory - Laurie Halse Anderson
Anderson never flinches from telling the hard stories.
Speak
was about rape,
Wintergirls
was about anorexia, and now this story is about a teenage girl, Hayley, living with her war veteran dad, who is suffering severe PTSD. Hayley's mother died, and when Dad's relationship with Trish broke down, he took Hayley on the road with him for several years. Now they are back in his home town, living in the family house, and she is at high school, struggling to cope.
As Dad moves in and out of 'episodes', Hayley is finding it harder and harder to deal with him. She is so caught up in caring for him that she fails to see that he is steadily getting worse. Her whole life is about protecting him and making sure nothing sets him off. She begins a relationship with a boy at school, the only one weird enough to 'get' her, as her friend says, but even he can't be allowed to get involved with her dad in any way. When Trish returns, Hayley tries to blame Dad's worsening condition on her. Eventually, of course, things come to a head.
Although this is a story specifically about the father's PTSD, as do many strong novels of this kind, it speaks to a much wider range of issues. Mostly I thought that Hayley gives us a really good idea of what happens when you are caught up with 'enabling' someone's condition because you are in so deep you can't see what is happening. It could apply just as well to alcohol and drugs. It's also a frightening depiction of a world in which the adult is no longer capable of being the caregiver and it all falls to the child. Despite sounding depressing, the story is well-balanced by Hayley's relationship with Finn - their funny dialogue serves to lift the darkness at just the right moments.
The Ocean at the End of the Lane - Neil Gaiman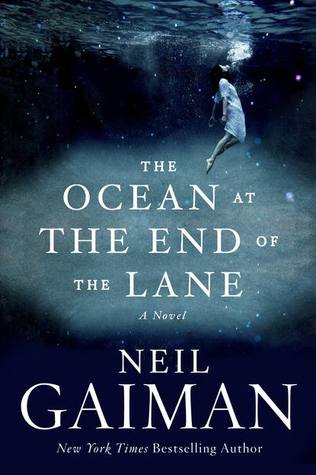 Even though I read this several months ago, it has stayed with me. I'm not an avid Neil Gaiman reader, like some people, but I liked the sound of this and so I picked it up. I'm not sure it's even YA, but Gaiman says it is definitely not a children's book because of the bath drowning scene. I would have to agree. He has said it is his most autobiographical book, set in the place where he grew up, with the family of Hempstocks who live at the end of the lane.
In an
appearance at Symphony Space
, he said,
"While I was writing, it was like I was there. There's a scene where our hero has to climb down a drainpipe to escape, and I was talking to my sister, and she said, 'you know, we've got a photo of you on that drainpipe…'
And that's the back cover of the book now!"
It's a story in which the boy is caught up in bizarre, almost-mythical events, things that terrify him and only Lizzie Hempstock is there to help. The pond is an ocean that holds terrors and monsters. But in the way that Gaiman often writes, it is the things going on in the family home that are more frightening. In a very different way, he raises the same question that Anderson does - what can a child do when his or her parent won't see reason and take care the way they are supposed to?
I can recommend all three of these books - they won't make you feel comfortable but they will catch you up and give you plenty to think about.